Mr. Bill Tapped to Help Save La. Swamps
By CAIN BURDEAU, Associated Press Writer

NEW ORLEANS - Mr. Bill, the "Saturday Night Live" clay character from the 1970s whose misadventures usually left him squished, will be part of a campaign aimed at teaching people especially children how Louisiana is losing its coastal marshes and swamps.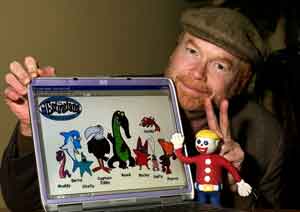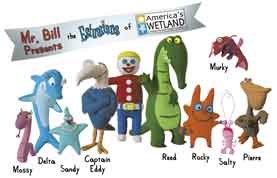 "I wish I had a quick three-word synopsis for it other than maybe Mr. Bill says 'Ohh, nooo!!! the coastal erosion,'" said Walter Williams, Mr. Bill's creator and a native of New Orleans.

The campaign will be launched next summer with Mr. Bill and a gang of "Estuarians" Salty the Shrimp, Eddy the Eagle, and others talking about the shrinking coast.

"Our hope is to draw worldwide attention thanks to Mr. Bill," said Valsin Marmillion, a campaign consultant for "America's Wetland," an initiative kicked off last year by Gov. Mike Foster to drum up national support for the problem.

What's been lost is mind-boggling: Since 1930 more than 1,900 square miles of marsh — Louisiana's "trembling prairie" no longer exist. That's an area roughly the size of Delaware. And the loss of land continues at about 30 square miles a year.


"Anyone who drives down the road can kind of tell that the land is gone," Williams said.


The land has disappeared for a multitude of reasons, among them oil and natural gas drilling, sea-level rise and engineering the Mississippi so its waters do not overflow with spring sediment and nutrients into the vast wetlands.


Until recently, the plight of south Louisiana largely has been ignored even in Louisiana. But a coalition of interests from environmentalists to fishermen to oil executives have pooled their resources to try to get Congress to pour billions of dollars into what could become one of the largest public works ventures in American history.


A $14 billion, 30-year project to restore the Louisiana coast is under review by the White House and the U.S. Army Corps of Engineers and could be presented to Congress next summer.


There's one glitch: getting people to care about the Louisiana swamps. That's where Mr. Bill comes in.


The governor's campaign has sought to brand Louisiana's problem for the general public. First, it got the makers of Tabasco hot sauce to put the America's Wetland logo on their products. Now, the campaign hopes Mr. Bill will appeal to kids and baby boomers alike.


"Mr. Bill is a generational bridge," Marmillion said. "So the parents understand it and the kids get the newness of the Estuarian characters."


Just how well Mr. Bill and the Estuarians will ignite the public's imagination is impossible to tell. But on a short budget of about $1.5 million a year, getting Mr. Bill who's been featured in spots for Pizza Hut, Ramada Inn, Lexus and Burger King was considered a coup.


"Because Mr. Bill always finds himself in difficult situations, he becomes a natural spokesperson for the 'Don't be a loser' theme of the campaign," Marmillion said.


He said the project, called "Mr. Bill America's Wetland World Tour," will be Internet-based where children, teachers and the public can get lessons, games and other activities over the Web.


"These are fun characters, and I think kids will be able to relate to them," Marmillion said.


The Mr. Bill skits, first created by Williams with a Super 8 camera in his teens, debuted on "SNL" in 1976 and ran through 1980. With supporting characters Mr. Hands and Sluggo usually working against him, Mr. Bill was often put in situations a party, a magic show, the circus that left him squashed, dismembered and howling in shock.


Williams, who's called New York and Los Angeles home for years, didn't have to be convinced of the urgency to stop Louisiana's marshes from being lost.


In 2002, he made a one-hour documentary called "New Orleans - The Natural History" broadcast by PBS and used by the Army Corps of Engineers, The US Geological Survey, Universities and state officials to illustrate the problem.


"My mom and sisters live here. So that is another reason to try to help Louisiana," Williams said. "Everyone is doing what they can and obviously, 'Ohh, nooo!!!' makes a great headline."